Using wire line for trolling Lake Erie

By
Dave Adams
The advantage of using wire line is that you don't need heavy diving disks or jet divers to reach a certain depth. In addition, when fishing stainless steel wire fishing line, you will feel every head shake, dive, and twist. In my opinion, when a plug or worm harness is combined with wire, it presents a precise trolling match that is unmatched.
First, line lead must be determined and measured. If a line counter reel is not used, the amount of line drawn from a spool can be measured by counting the number of times the line guide goes from left to right. Hold your favorite beverage in one hand, watch all your poles, keep an eye out for other boats and put your thumb by the line guide. As the line feeds out, the line guide will begin to "rap" your thumb; thereby, the term - rap. Then measure the line. Actually, a line counter reel is best. But if you don't have one try this method - it's less painful.
While one person holds the line, walk the line back until the line guide moves back and forth one time. Measure the length of line; angling terminology for this is "raps." Often a walleye angler will state, "walleye are hitting at 20 "raps" or the line guide has moved back and forth 20 times. The length of line from one line guide movement is 10 feet multiplied by 20 "raps," which is 200 feet.
Large deep diving lures such as Long A Bombers or Thundersticks have proven very successful. Although any color or depth might work, a certain combination does seem to provide the best results - a green or fire-tiger deep diving Thunderstick and a 320-foot lead. ** This is the best evening setup I have ever seen. Try it at North East. **
The strongest and most reliable rig is to twist the wire line onto a number 12 barrel swivel. Below the swivel, tie on a 4-foot leader of 20-pound test Seaguar fluorocarbon line, and attach the lure. This setup will reach the depth of 35 feet when trolled behind 320 feet of 12 pound stainless wire.
My favorite open water summer tactic is using wire with the worm harness. To keep lures consistently at a certain depths, the Big Jon diving disks has been the most consistent producer. The 1 3/4-inch disk in any color is adequate. The wire is twisted directly to the diving disk and followed up with a 4-foot leader of 20-pound test Seaquar fluorocarbon line. Finally, attach a good quality worm harness (when a good size walleye hits a worm harness, it is absorbing most of the shock) and start fishing. By adjusting the amount of line trolled behind the boat, this setup will run to depths of 20 to 35 feet. Start at 180 and gradually move to 220 feet. Once a pattern is found, this depth will produce the entire season.
If undesirable fish start to be a problem, try an old "Captain's" trick; instead of letting the crawler trail from the last hook, "ball" up the crawler on the bottom hook. It might look strange, when hooked 5 or 6 times, but walleye really devour it.
Traditional open water trolling methods produce. Nevertheless, water clarity, fishing pressure, and lower walleye numbers dictate what changes to make in order to be successful. For all day action and size of fish, wire fishing line can provide an unforgettable day.
Good Fishing,
Capt. Dave Adams
Dave Adams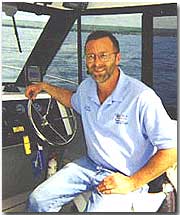 Dave Adams is a member of the Pennsylvania Outdoor Writers Association. He is a Licensed U.S.C.G. Master and has over 20 Years experience fishing on Lake Erie and Lake Ontario. One of the best things Dave says about fishing is "I enjoy fishing for the great experience of good company and memories that last a lifetime".

Writing credits:Pennsylvania Angler and Boater, Pennsylvania Game & Fish, Ohio Game & Fish, Great Lakes Angler, Fishing Facts, Ohio Valley Outdoors, PA Hunting & Fishing News, Outdoor Times, Lake Erie Walleye, Ohio Fishing & Hunting News, Valley News Dispatch, Outdoor Times, Outdoor Territory, and Outdoor Journal

---------------------------------------------
Brought to you by Land Big Fish
Web: http://www.landbigfish.com
Email:

[email protected]