Trolling Speeds and Techniques for Fishing Lake Erie

By
Dave Adams
Depending on what fish I'm targeting, quite a few factors are used to determine trolling speed. Some include: the actual speed reading on the indicator, wind condition, current speed, previous experience and, of course, luck.
Since most fish finders have very accurate speed indicators, I would recommend that you use your fish finder and follow this general rule - walleye like it slow. When using worm harnesses or long lining plugs, I prefer a .8 to 1.2-MPH trolling speed. And when using the Michigan Stinger Scorpion spoon, I generally increase the speed to 1.5 to 2.2.
On some days - more than we all like - Lake Erie kicks up a bit, and the wind will determine trolling speed. I try to troll with the wind, because it makes running equipment easy and provides a much smoother ride. But even a one to three foot chop can play havoc on trolling speed; the indicator might read .5, however the lures are most likely running 1.8. This is where a trolling bag is invaluable - it helps to maintain speed and control. Without the bag, the lures could be running as fast as 3 MPH.
Keep in mind that Lake Erie also can have strong currents. Unfortunately, my downriggers are not equipped with speed sensors; and in this case, I rely on experience and luck to determine the current at the lower levels. If you have a speed sensor on your downrigger, watch the speed at the 40-foot level; if not, watch the cables on your downrigger. When you troll through a strong current, the cable will swing. Also, during the first two hours I will make quite a few turns until I determine what direction the fish want the lures. Once I find a trolling pattern, I generally stay with it for a few hours.
For example, on Saturday, July 14 the lake had a one to three foot roll and the wind was from the west/northwest. During a southeast troll towards the mountain, I noticed that at one certain spot the current switched and walleye only hit when I turned due south. For three hours I repeated this slight turn into the waves and boated fish.
If you can run two dipsies, try this - set one at 3 1/2 with a worm harness and set it back 140 feet. Set the second dipsy at 3 1/2 with a Michigan Stinger Scorpion spoon (blueberry muffin) and set it back at 150 feet. During the first hour troll with the wind and make at least three long slow turns. Keep an eye on the poles and watch the bend of the tip. If a walleye hits, remember the amount of bend in the pole and the trolling speed. Then stay with that pattern until early afternoon. After the sun is high, drop both dipsies back ten feet. Hope this helps.
Good fishing,
Capt. Dave Adams
Dave Adams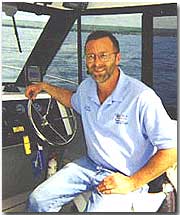 Dave Adams is a member of the Pennsylvania Outdoor Writers Association. He is a Licensed U.S.C.G. Master and has over 20 Years experience fishing on Lake Erie and Lake Ontario. One of the best things Dave says about fishing is "I enjoy fishing for the great experience of good company and memories that last a lifetime".

Writing credits:Pennsylvania Angler and Boater, Pennsylvania Game & Fish, Ohio Game & Fish, Great Lakes Angler, Fishing Facts, Ohio Valley Outdoors, PA Hunting & Fishing News, Outdoor Times, Lake Erie Walleye, Ohio Fishing & Hunting News, Valley News Dispatch, Outdoor Times, Outdoor Territory, and Outdoor Journal

---------------------------------------------
Brought to you by Land Big Fish
Web: http://www.landbigfish.com
Email:

[email protected]