The status of walleye fishery on Lake Erie

By
Dave Adams
Lake Erie walleye enthusiasts --
Much has been said and written - in bait shops, on the internet, newspapers, books, and magazines - about the current walleye population.
Wouldn't it be great if Lake Erie were covered with walleye? On the Pennsylvania waters, you could fish the first trench and catch 36 walleye in two hours. Of course, if you were fishing the Ohio waters of Lake Erie, you could catch 60 walleye by noon. Or if you were fishing during the spawn, most of the walleye that you caught would be over 10 pounds. Sound like fun? Sure does. Even though it would be great to experience this type of fishing for an eternity, permit me to venture to different waters.
Rachel Carson*, scientist, ecologist, and author of Silent Spring** wrote this 40 years ago:
We see the miracle of nature's control at work when the cod move through winter seas to their spawning grounds, where each female deposits several millions of eggs. Assuredly, we still have a viable walleye population - though not in the numbers of 10 years ago. And Ken, while the majority of walleye spawn in the western basin, spawning also occurs at any desirable shoal, river, or tributary. It begins when the water temperature reaches about 45 degrees. As each walleye deposits the eggs - usually at night - approximately 95 percent will be fertilized. But even under the best conditions, only 5 to 20 percent of these eggs will hatch. The odds that a walleye will survive its first year are 1 in 10,000.
Rachel Carson also noted:
The sea does not become a solid mass of cod as it would surely do if all the progeny of all cod were to survive. The checks that exist in nature are such that out of millions of young produced by each pair only enough, on the average, survive to adulthood to replace the parent fish. These checks are not only what nature provides, but also what man does or can prevent. Following the resurrection of Lake Erie in the late 60's and continuing until the 80's, the forage base was capable of supporting a huge population of walleye. Currently, Lake Erie - a most delicate waterway - is undergoing yet another change, of which, man again is responsible. Over fishing (both commercial and sport) and the zebra mussel has reduced the forage base, which in turn lessened the walleye population.
Yes Mark, the walleye were spread out last year. It is because the population is 1/4 of what it was a decade ago. With this in mind, I would like to say that I do favor the current proposal for changing the walleye season and limits - providing that Pennsylvania, Ohio, New York, and Canada all work together to protect the future walleye fishery.
Granted, we have fewer walleye. But we now have perhaps the most balanced fishery that this generation (or possibly any) has ever seen. Case in point, 20-pound steelhead, eight-pound bass, 25-pound lake trout, huge brown trout, and eight-foot sturgeon. In addition, 10-pound walleye can still be caught during the heat of summer. Just as Lake Erie was declared dead, it is now reborn and more vibrant with life than 40 years ago.
Whenever you ask a question, attend a meeting or voice an opinion, you are doing your part in keeping Lake Erie in the forefront of all. Also, I don't think that we will ever see the walleye numbers previously experienced. Thus, all things considered, I'll keep the current situation.
Good Fishing,
Capt. Dave Adams
Dave Adams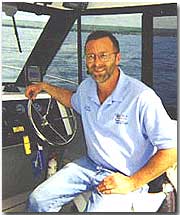 Dave Adams is a member of the Pennsylvania Outdoor Writers Association. He is a Licensed U.S.C.G. Master and has over 20 Years experience fishing on Lake Erie and Lake Ontario. One of the best things Dave says about fishing is "I enjoy fishing for the great experience of good company and memories that last a lifetime".

Writing credits:Pennsylvania Angler and Boater, Pennsylvania Game & Fish, Ohio Game & Fish, Great Lakes Angler, Fishing Facts, Ohio Valley Outdoors, PA Hunting & Fishing News, Outdoor Times, Lake Erie Walleye, Ohio Fishing & Hunting News, Valley News Dispatch, Outdoor Times, Outdoor Territory, and Outdoor Journal

*Rachel Carson was born in Springdale, PA on May 27, 1907. She graduated from the Pennsylvania College for Women (now Chatham College) in Pittsburgh in 1929, and received her M.A. degree from John Hopkins University in 1932.

She taught at the University of Maryland and studied during summers at the Marine Biological Laboratories in Woods Hole, MA. Here she began to develop her love of the sea. This was followed by a job with the Bureau of Fisheries (later the Fish and Wildlife Services). **Her book Silent Spring (written in 1962) was largely responsible for changes in the laws affecting our air, land, and water. Also, Silent Spring was ranked as the fifth most important book of the 20th century.