Took my buddy and his fiance out today to drift for some eyes we headed out to arounf the 30 17 line and killed the motor.
on my buddies fiance's first cast ever she hooks into a fish I ask her what It feels like and she says it just feels heavy... Walleye on get the net she gets the fish to the back of the boat and the net man takes a swing and a miss followed up with strike two... The fish didnt give the chance to strike out she was gone. im just glad I wasnt the man with the net....
After that it was slow a few sheep and white perch. We ended up catching 2 eyes both decent fish a 23 and a 25 incher.
We were setting up to do a little trolling and thats when the big catch of the day came....
A 220 pounder on a bubble gum reef runner roughly 2' back... Couldnt get the hook cut with the multi tool I had on the boat so we cut the day short and headed back shore to get some better snips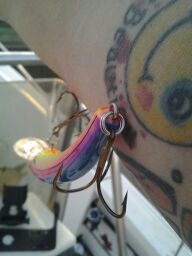 Sent from my SPH-D600 using Ohub Campfire mobile app