Hey now.
I have finally been able to get a couple days off to get out and get on the river.
I got out for a quick wade on Monday and ended up with a handful of fish. While walking back to my truck I continued to cast a roadrunner jighead with a curly tailed grub into the river and got slammed. I could tell immediately that it was a catfish. I finally got it to shore and tape measured it out of curiosity and to my surprise it ended up being 26", good enough for a Fish Ohio certificate. On 6lbs mono line, I couldn't complain.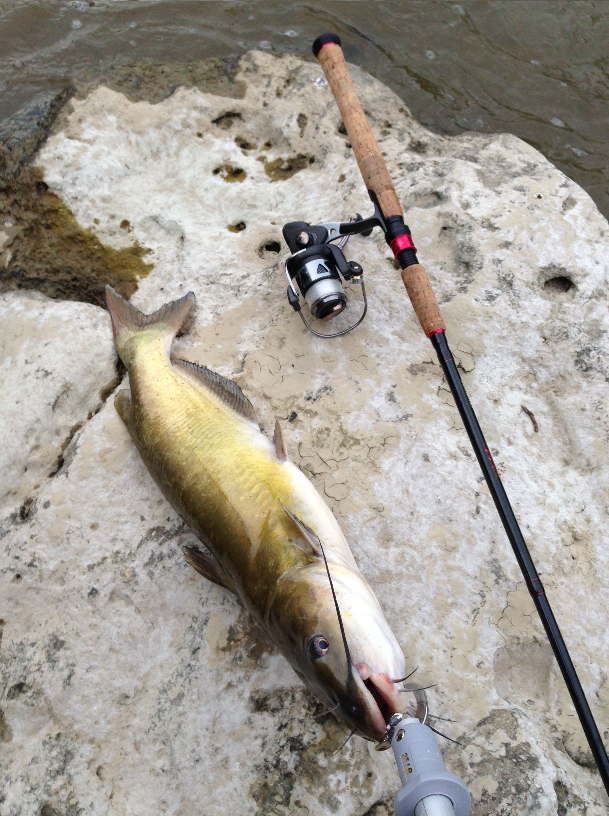 The next morning HOUSE and I prepared ourselves for a kayak float. As many of you know, this has been a rarity these days with the river being so high for so long.
The water levels were about perfect. The clarity was so-so. Still a little murky, but we made due.
My first cast I threw out a bitsy-tube and got an instant bite. I could tell it was a big fish but didn't get excited until this thing went airborne, then the fight was on. I got it to shore and it measured out to 19".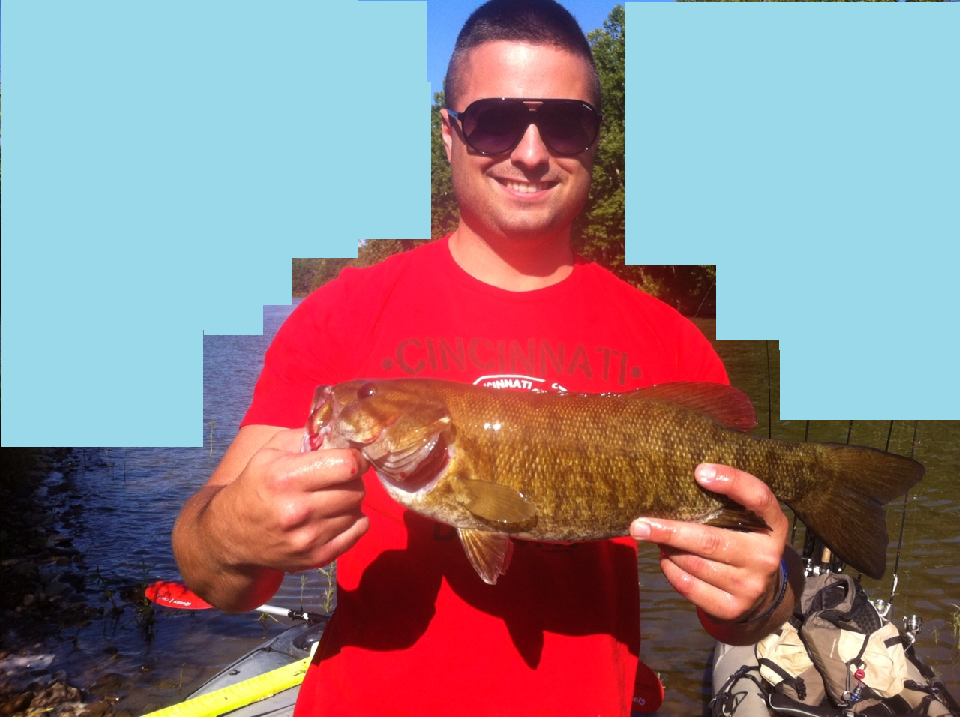 This is the first time in my life I have been disappointed in catching an 19" smallmouth. This was the first cast of a 6 mile kayak trip. We all know if you catch a fish on your first cast, the fishing gods cut you off. Luckily this was not the case. I quickly ended up with a 16" drum a few casts later.
I switched up to a minnow imitation with a roadrunner at the next riffle where I know some striper giants have been known to show themselves. I felt a tap and set the hook then held on tight. My reel was absolutely screaming and wouldn't let loose. I thought I was going to get spooled. I could tell that this was NOT a catfish and was confident that it had stripes. Finally the fish tired out and I battled it to shore carefully hoping the skinny monofilament line wouldn't snap before I could at least see what it was. It finally broke surface and I was able to see that it was indeed bearing stripes.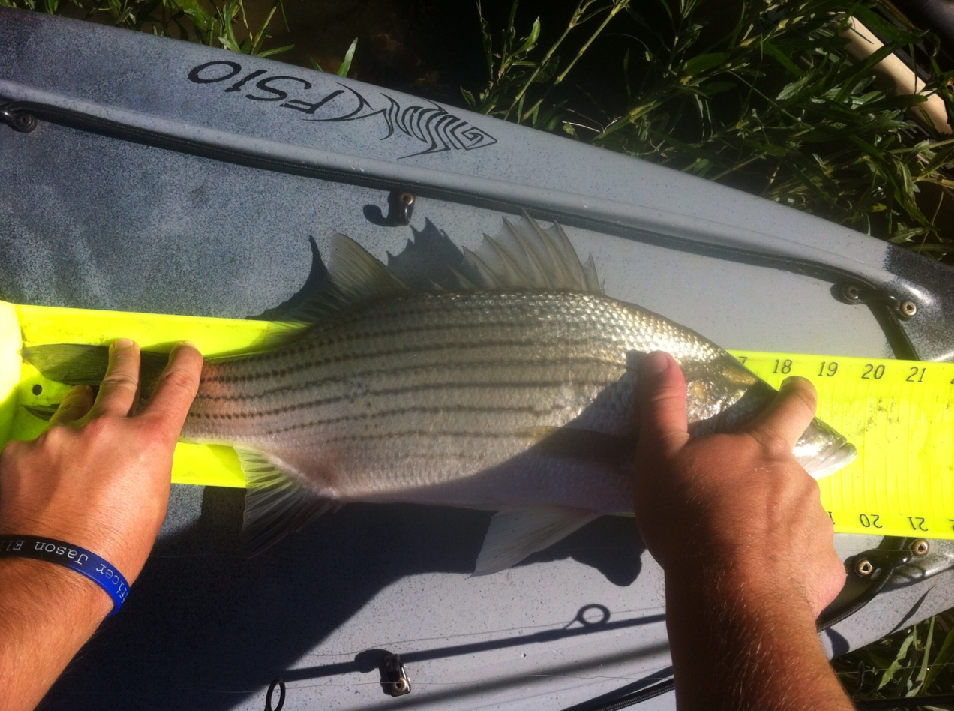 I was able to kind of pretty much squeeze 20" out of it. I'll take it.
We continued on our float and ended up with some other drag-pulling fish like this channel cat, which is always fun to catch while jigging.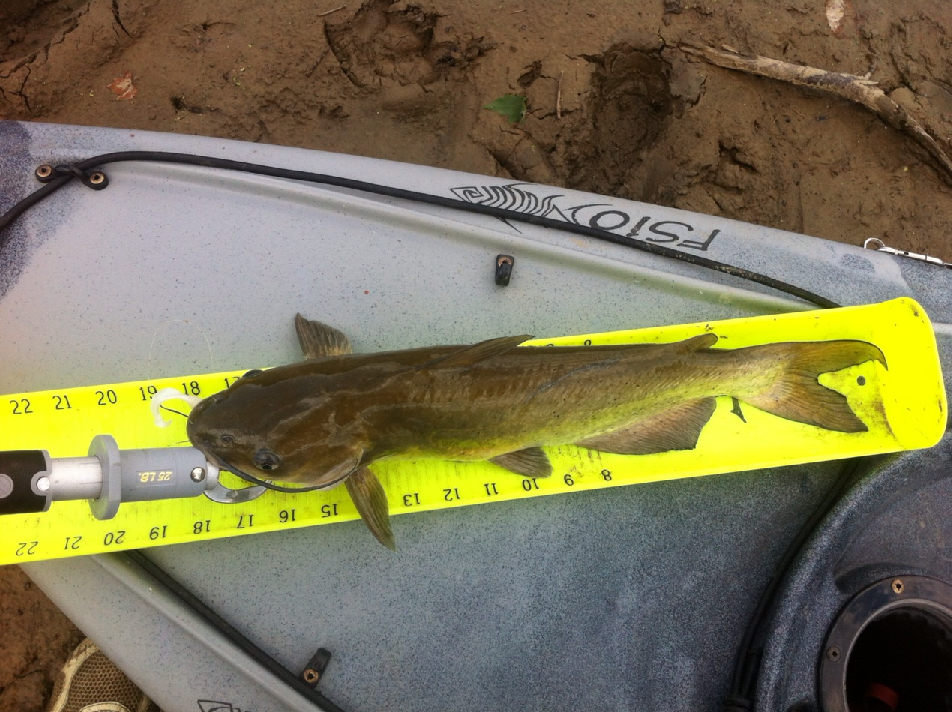 The drum were out in full force as well. They will kindly take your lure and run making you think you have a nice smallie/stiper until they surface showing their ugly frowning faces. Jerks.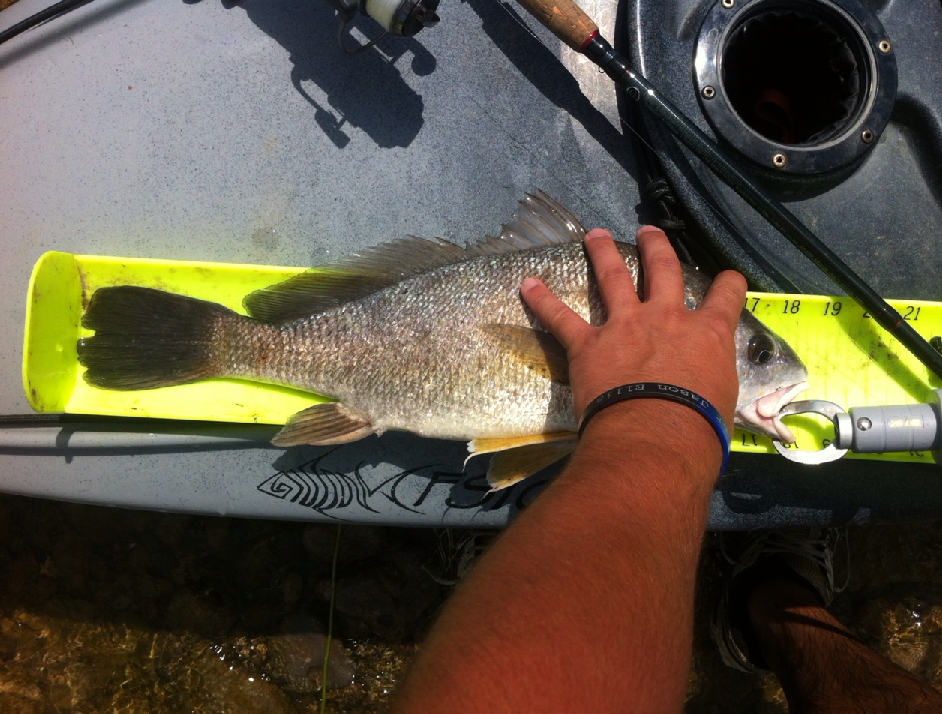 On top of catching an abundance of fish, we also so some river otters. This is the first time I have ever seen wild otters. When HOUSE pointed them out I was quick to doubt him claiming that they were beavers, but when we got closer there was no doubt that they were otters. We tried to chase them down and snap a picture but they were probably mad that I called them beavers and did not allow it.
Most of the fish caught were at the end of a riffle where it is nice and shaken, but not stirred.
It was a beautiful day to be out kayaking in shorts and soaking the sun. Hopefully I will be able to get more days in like it before I bust out the winter fuzzy hat and start freezing my buns off while risking death on the water in my kayak.