·
Cats are where it's at!
Discussion Starter
·
#1
·
One of Mmagis favorite pastimes is to catch a big flathead and
rope it up.
Then he calls Rob and says
"I told ya to come with us"
Friday night Rob and Mike were at the lake and had bait by
the time I arrived.
I think we put bluegills in every bucket we had to insure they
would transport to our spot alive and healthy.
Mike and I told Rob that the channel cats had been relentless
last week and quickly demonstrated with a couple caught and
several quick runs. As it got later I explained to Rob that I had
a secret to get flathead to bite. I got as comfortable as
possible and about 2 in the morning my technique worked.
Mike and I watched as the fish took line and we saw Rob bend
low to prepare for hookset. We never turned on a light but saw
the bend in the rod as Rob swept back. We determined it was
a big fish and put Rob in the Alumnacraft and pushed him off.
Mmagis and I sat back and watched as much as we could see
and listened to the rattles and groans, the grunts and splashes
as Rob played the fish in deep water.
When Rob landed ashore we got the weigh sling and scales and
weighed his fish after adjusting our rope to hang the scales.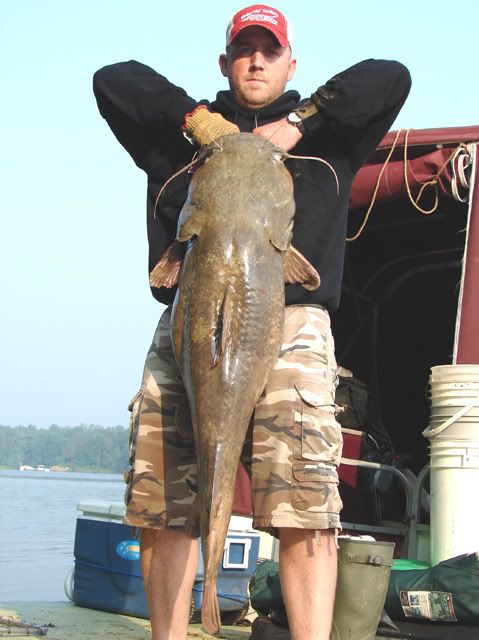 Mike and I tease Rob a lot but we were happy to see him land this fine trophy.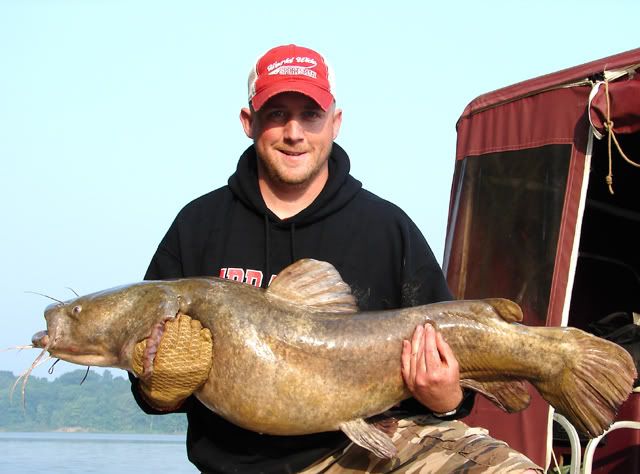 We hope it inspires him to flathead fish with us more.