Discussion Starter
·
#1
·
Got out there trolling and not expecting much after yesterdays 1 dink eye total for a 4 hr trip. Started out identical at 5:40 a.m. and did the usual seek and destroy for a couple hrs. Got south of pew and I lost a monster of a fish.It ripped off 50' of line then shook free. Only 2 things in Indian that can do that, Big flattie or a snagged huge carp. I threw everything at them. Chart craws,tennesee shads, chrome black/mistake bandits,Flat A,sunrise craw,mossback craw. That huge fish that I lost was on mossback craw. So then ventured to my starting point and after 9 a.m. game was on.Just as I got inside that cluster area that I've been pounding, I lost a fish and got a 10" eye dink and set that waypoint. Working that wp, I nailed the 1st eye. .10 mile from that on a turn to go back,eye #2 hit.Then a snagged channelcat. 15 mins later,that's when the big eye hit and boy did it fight. Got it in the boat and measured at 26",which the hatch of my livewell is 27" long. After that only managed a bluegill.Imagine a bluegill hitting a B04 at 3 mph with 30# spiderwire and 8.5' salmon rod!! What a fight!
After 10 a.m., that's all she wrote and the bite stopped as fast as it started.T All eyes were on the skinny side. That 26" eye should have been in the 5#-6# range but I bet it barely reached 4#.
Here's the big eye fresh out of the water:
Here's all 3 skinny eyes and a channelcatThe littleuns measured 18 1/4" and 18 1/2".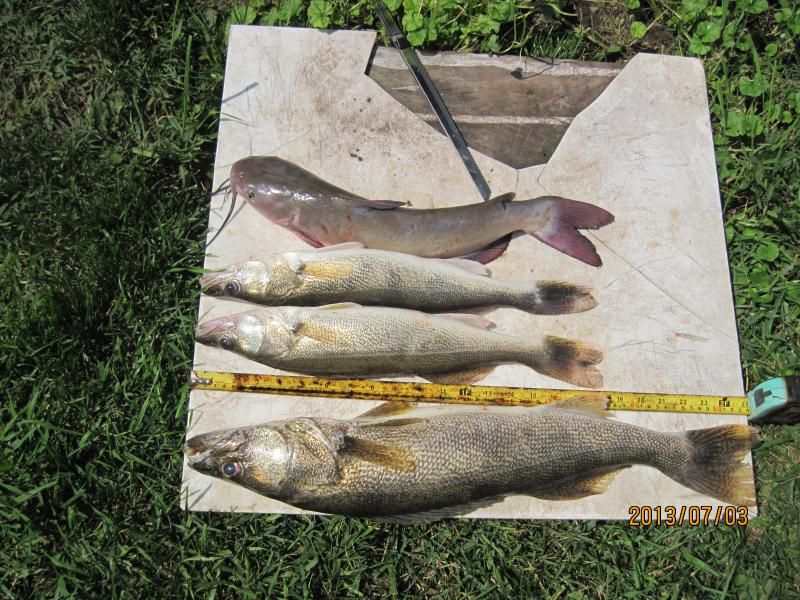 Here's the monster bluegill/sunfish: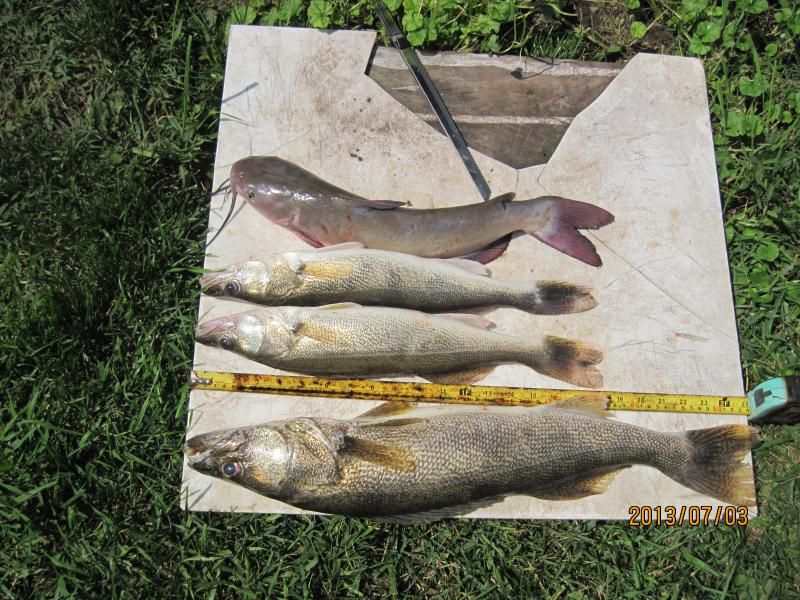 Water Temp: 74
Clarity: stained, less than 10"