A buddy of mine turned me on to fishing a shad rap on a bass rod around dams to catch flathead earlier this year. We catch all kinds of species but I'd say at least 40% of the fish we catch at flatties. I still enjoy the traditional bait and wait style but this is a lot of fun when you've only got a few hours.
Anywho, got this guy yesterday down a ways from the lower GMR dam. He certainly was a fun fight on my bass rod. Didn't have my scale with me and didn't get any measurements, but just based off fish I've caught in the past I guess him to be in the low 20's.
I know its hard to tell a fishes weight from a picture, but all I'm really looking for is a rough estimate on what you "think" he would go.
I'm around 5'11", 270lbs.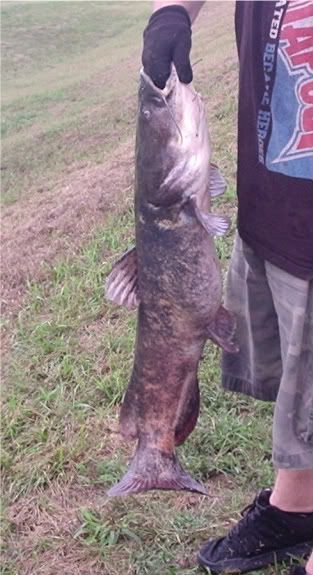 Fish was CPR'd, had him on a stringer about 10mins till my wife got there with a camera.