Fishing with lead core line

By
Dave Adams
Lead core line is producing some great walleye catches on Lake Erie. In fact, with its ability to present a lure - with little effort - to a desired depth, it won two local tournaments during 2003.
Tommy Skarlis of Walker, Minnesota won the $63,000 first prize as the top pro angler in the MinnKota Northeastern Pro-Am (Professional Walleye Tour) at Dunkirk, New York on July 9-11, 2003. Skarlis found his fish less than 30 feet deep over nearly 90 feet of water, and trolled lead core line to take his lures to them.
Also, Tom Mears of Bradford, Pennsylvania won the 2003 Western Pennsylvania Anglers Lake Erie walleye tournament at North East on July 26, 2003, while trolling crawler harnesses.
It`s a simple product that works and it is not hard to use. "Lead core is 100 percent easier than a diving disk," Mears said, "especially if someone doesn`t have the time to figure out how a diving disk works."
Lead core line is a color-coded (each color is 30 feet of line) Dacron line that has a soft lead core. According to Mears, six colors of 18-pound test lead core, with a 50-foot fluorocarbon leader is a good rule of thumb for anyone fishing on Lake Erie
"But if the fish are deeper," Mears said, "add a color. That's why I would recommend a minimum of 10 colors on a reel."
So, when spooling 10 colors (300 feet) of line, reel selection is important. In general, a line counter reel is not necessary because the line is color coded, but it does help, and a level wind reel is recommended, not a spinning reel because of line thickness.
For example, I switched two of my set ups to lead core for 2004. The reels that I chose are large level-wind Okuma 30DX reels, which are rated to hold 460 yards of 18-pound test monofilament. But since lead core line is thicker, they held only 100 yards of 18-pound Kerplunk lead core line, which allowed just enough room for the fluorocarbon leader. The poles are standard downrigger rods.
Finally, the leader, with the correct length is attached. Twist the lead core line - three inches back - a few times, and the lead will break and easily pull out of the Dacron. Then, tie the fluorocarbon line to the Dacron with clinch knots. For leader length, though, PWT touring pro, Keith Eshbaugh of Washington, Pennsylvania differed in opinion.
"I prefer a 100-foot leader," Eshbaugh said, "only because I have been more successful with that length."
100 yards of 18-pound lead core line filled this reel The different colors are visible Note: this spool is rated to hold 460 yards of 18-pound monofilament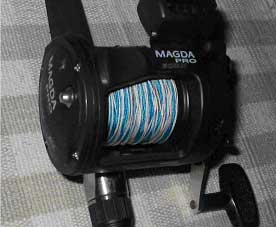 But both anglers agreed on the depth lead core line will take a lure, particular the crawler harness. According to Mears and Eshbaugh – on average –the bait will dive 5 to 6 feet for each color trolled behind the boat.
Lake Erie walleye constantly change feeding patterns, they might be high in the water column chasing baitfish, an hour later though, they might move to the 40 foot depths. But they can always be enticed into a strike, and lead core line will give you the ability to adjust, quickly and easily, the presentation, without heavy or complicated diving disks. Resulting in more walleye caught.
The winners during 2003 proved that.
<HR>Check out the
Mason 100 yard lead core line by clicking here
Dave Adams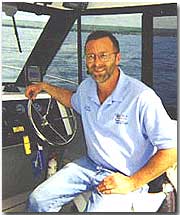 Dave Adams is a member of the Pennsylvania Outdoor Writers Association. He is a Licensed U.S.C.G. Master and has over 20 Years experience fishing on Lake Erie and Lake Ontario. One of the best things Dave says about fishing is "I enjoy fishing for the great experience of good company and memories that last a lifetime".

Writing credits:Pennsylvania Angler and Boater, Pennsylvania Game & Fish, Ohio Game & Fish, Great Lakes Angler, Fishing Facts, Ohio Valley Outdoors, PA Hunting & Fishing News, Outdoor Times, Lake Erie Walleye, Ohio Fishing & Hunting News, Valley News Dispatch, Outdoor Times, Outdoor Territory, and Outdoor Journal

---------------------------------------------
Brought to you by Land Big Fish
Web: http://www.landbigfish.com
Email:

[email protected]