Discussion Starter
·
#1
·
So I finally had the chance to get out and fish with Mushibushi. Man, what a great time. Kyle's a great guy to fish with. If you find yourself with the chance, I highly recommend it.
We didn't exactly light the river on fire, but we kind of semi-knew that going in to it. Couple of other reasons we wanted to float this particular strecth, one being it was one fo the few to actually have some water in it right now.
Fishing was slow. A couple smallies between the two of us on spinners and maybe one on a white grub, maybe 13" the biggest.
Kyle showed off his multi-species skills with a smallie, a sauger/saugeye, and a carp on three consecutive casts. (Turns out once I finally let him out of the yak and get his feet wet, he turned it on.
)
But mostly he taught me about saugeye, I talked about smallies, and we picked out deer and duck hunting spots.
And we saw a ton of cool stuff. Actually, ALL the animals across the board were acting odd and just off.
When we were just getting in, I saw a baby gar dart out in the water. Like 3" long. But then we were able to stand right over it and look and it just sat there. Finally I touched it with my paddle and it would just scootch a coupel inches. I'm certain we could have just picked it up if we wanted to.
Then we saw a baby something or other, I guess a muskrat, swimming in the water. I stuck out my paddle and he climbed on for a few minutes. He couldn't have been less scared of us and seemed thankful for the break in swimming.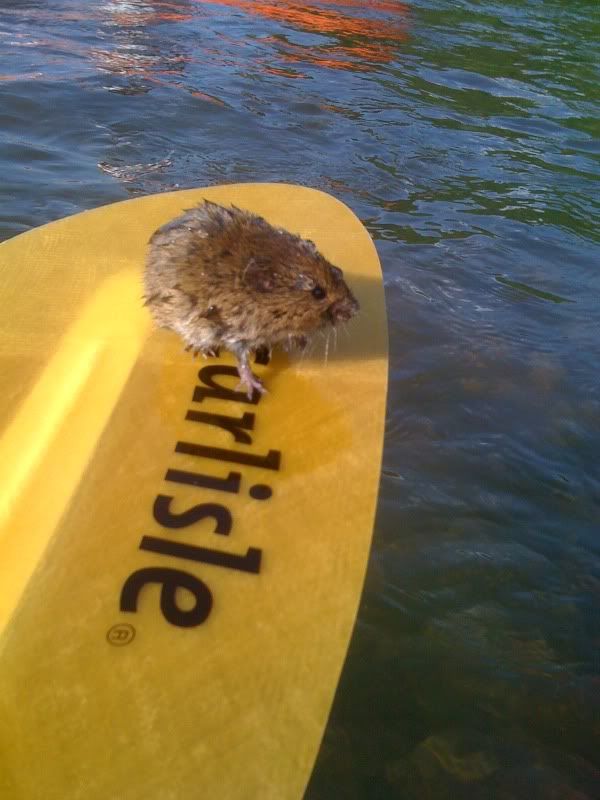 Then this beagle followed us downstream a while. At one point, it was scaling this eroded bank...had to be like a 70 degree angle...like a friggin' billy goat. And then swam out to the island we were on to see us. And then quite frankly wasn't that excited to see us.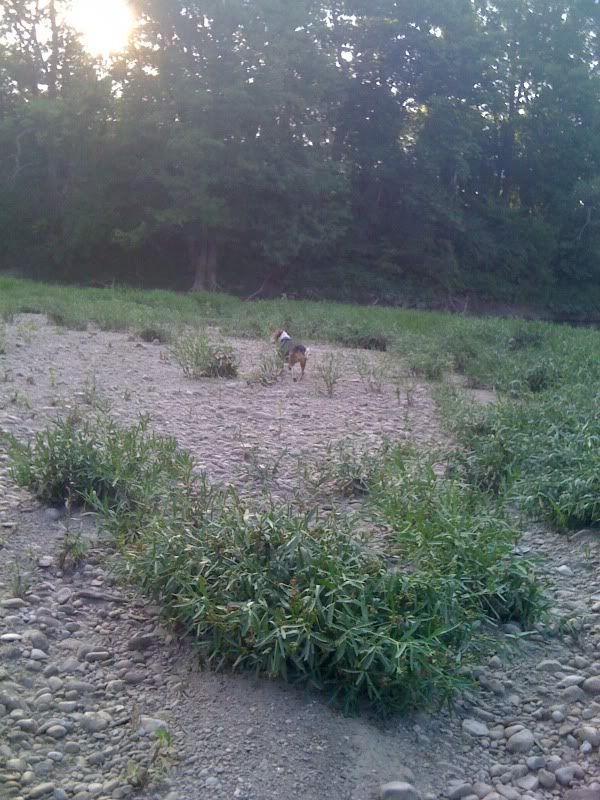 Then we stopped for a while so Kyle could show off. I think in one picture he cracked a smile: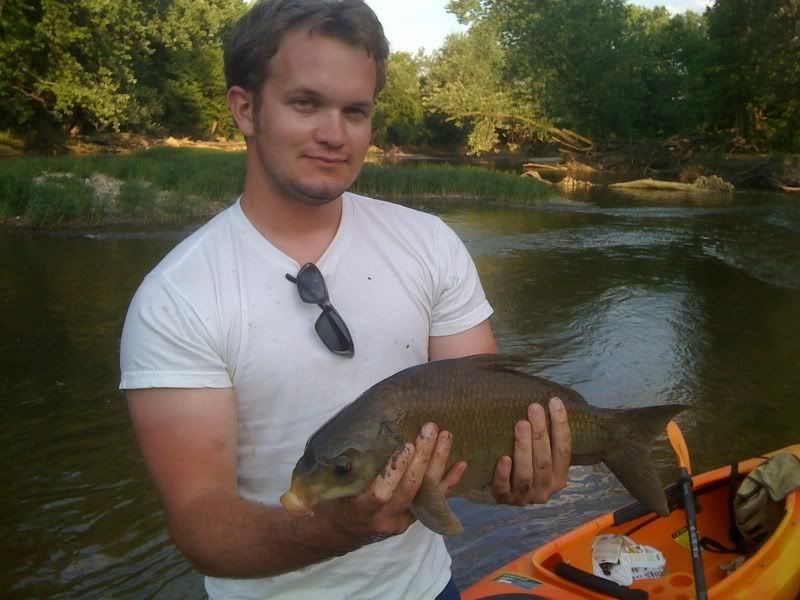 Learning how to tell a sauger from a saugeye. To tell the truth, i still don't have a clue. Sounds like field identification can be near impossible.
Sensitive content, not recommended for those under 18
Show Content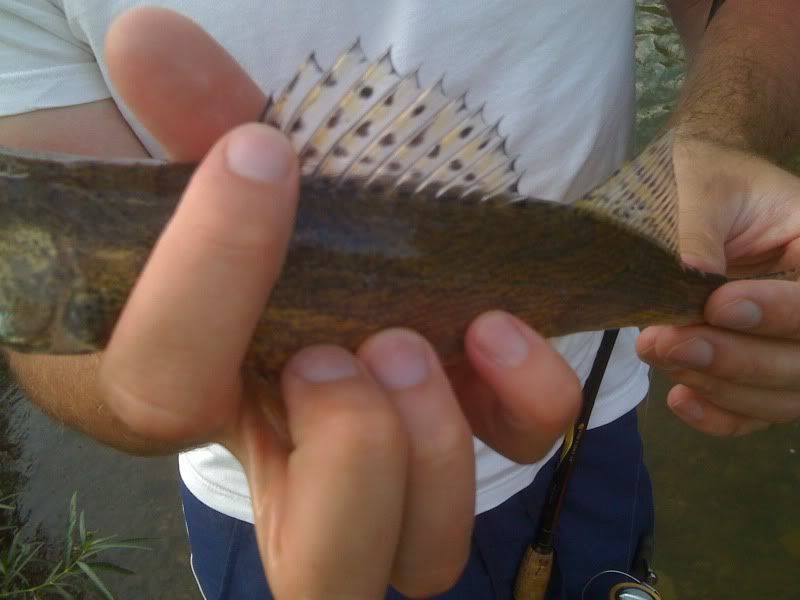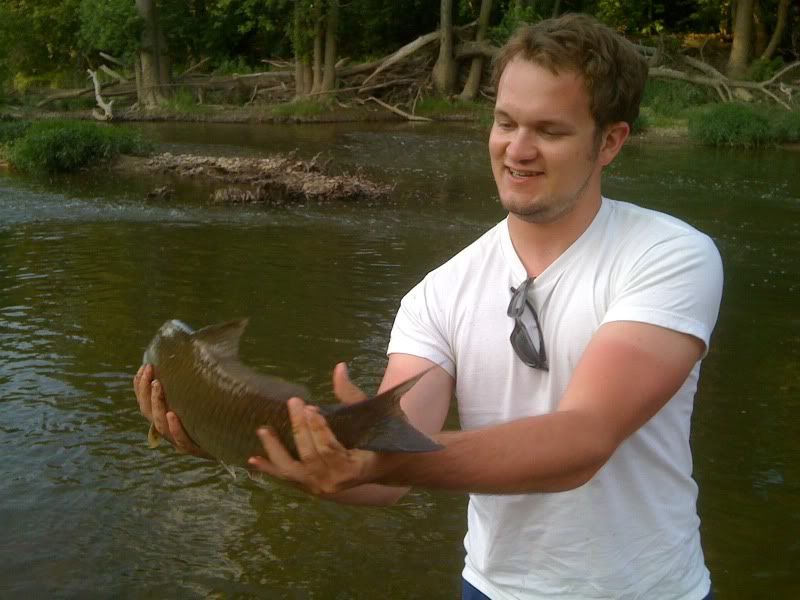 Of yeah, Kyle caught a spot in there some where also.
To top it off at the end of the float, I heard buffalo carp "sucking"...either for the first time in all the years fishing, or else I never knew what the heck it was. Freaky sound, even freakier fish as they attacked us the last 1/2 mile of the float. At one point I know I had 12-15 of them crashing all around the yak, one slammed the bottom.
All the animals were just running half wired last night.
Had a great time and looking forward to doing it again, Kyle. I know exactly where we're going next time. We just need a couple shots of water.
Get your boy out of the basement from up North and we'll head south.