Erie Walleyes made Simple and Fun

By
Dave Adams
Walleye fishing on Lake Erie can be productive and fun; yet, difficult or even strange. As Zane Grey once noted: "Every fishing water has its secrets... To yield up these mysteries, it must be fished with more than hooks."
But how do you catch walleye in the western, central, or eastern basin of Lake Erie? What is not a mystery is that any of the following baits will catch walleye: bottom bouncers, spoons, nightcrawler harnesses, plugs, minnows, and jigs. Then again, some walleye with odd taste will be caught on salmon spoons, which are suspended 80 feet below the surface or only at night on 2 1/2 inch plugs trolled in five feet of water; and yet, the strangest walleyes will be caught on green nightcrawlers trolled at high noon.
Lake Erie's Western Basin:
"Don't fish the dead water," says PWT touring pro and guide Keith Eshbaugh. "Use your fish finder and find the schools of walleye. If you don't get any good marks leave that spot."
A little searching in the shallower western basin (25 foot depths are common) might be needed, but walleye can generally be found near the reefs, channels or islands. Good starting points are from the launch areas at Toledo, Oak Harbor, or Port Clinton. Also, boat anglers can launch at Marblehead and troll near Kelly's Island. Once
you locate fish, use one of Eshbaugh`s favorite baits - the bottom bouncer. Attach a 3-foot leader and a #4 or #5 Colorado blade to a crawler harness; then, drop the bait on the bottom. Begin trolling this top walleye producer slowly - 1.5 to 2.0 MPH - to ensure the best action.
Lake Erie's Central Basin:
With a relatively featureless bottom and depths ranging from 45 to 75, the best summer action on the central basin is the 73-foot depth range. While also holding the majority of summer walleye, it also offers the most choices to boaters. From Huron to Conneaut ports available to anglers include: Vermilion, Lorain, Cleveland, Eastlake, Geneva, and Ashtabula.
"For walleye, the central basin is the place to be during the summer," says Capt. Bob Kresse of Bandit Charters. "Here, the Dipsy Diver is the preferred tactic for catching roaming schools of walleye."
According to Kresse, match the dipsys with the Michigan Stinger Scorpion Spoon and keep trolling speeds slow. The #0 dipsy is generally set at 0 and trolled 150 feet behind the boat. The larger #1 dipsy is set at two or 3 1/2 and trolling lengths are varied from 110 feet to 200 feet. The use of more than one dipsy - with different settings - allows the angler to fish a variety of depths. The smaller Scorpion spoons work best at speeds of 1.8 mph to 2.0 mph. Favorite spoon colors are copper, shrimp, and blueberry muffin. Also, Kresse adds, "Line quality is important. Use 30-pound Spectra braided line, followed with a seven-foot fluorocarbon leader."
Lake Erie's Eastern Basin:
Whether launching from North East, Pennsylvania or Dunkirk, New York walleye anglers will be greeted by deep water, structure (an underwater mountain stretches from PA to NY) thermoclines, big walleye (10-pounders are not uncommon), and a short boat ride.
"Fish are adapting but anglers are not," says Capt. Ed Concilla of Walleye Wizard Charters, who has spent years plying the deeper waters of Lake Erie at North East, Pennsylvania. When fishing the eastern basin, the changes in water clarity and lower walleye numbers have made the walleye very boat shy.
Still, even with clear water and fewer walleye, simple trolling tactics are your best bet for taking lunker summer walleye. Trolling the worm harness, in the popular colors of watermelon, purple/black or green, behind a Dipsy Diver will bring savory walleye home for dinner.
With water depths at this part of Lake Erie reaching to 210 feet, Concilla favors the larger #1 dipsy, which is usually set at 2 1/2 or 3. When walleye hunting on Lake Erie vary leads between 100 and 200 feet. Concilla`s advise to anglers fishing the eastern basin, "High sun - long leads."
During the early morning hours start with a lead of 100 feet; and as the sun progresses higher move the dipsy back to 150, and finally to 200 feet. The smaller #0 dipsy is best used with planer boards. Set it at 0 and start with a lead of 100 and again adjust according to feeding patterns and sunlight.
Easy Plug Fishing:
By any standard and whether your fishing the western, central, or eastern basin of Lake Erie, a diving plug will consistently catch fish; besides, trolling plugs is the easiest way to enjoy walleye fishing.
Begin by trolling the 3 1/2-inch Thunderstick (black/purple, green or rainbow trout) during the early hours. The best presentation is 150 feet lead (using 12-pound monofilament) off the planer board. This setup will keep the plug in the upper 15 feet of water. Later in the day, when the walleye begin to drop lower in the water column, switch to the larger deep diving plugs. If your boat is not equipped with a planer mast, flatlining larger plugs, such as Berkley Power Divers or Storm Thundersticks will work just as well.
· Worm harness tip: If undesirable fish start to be a problem, try an old "Captain's" trick; instead of letting the nightcrawler trail from the last hook, "ball" up the crawler on the bottom hook. It might look strange, but when hooked 5 or 6 times, the walleye really devour it.
· Dipsy Diver tip: Once a pattern is discovered, stick with it for a few hours. Also, color is important. Match the harness color to the dipsy color. No scientific reason to this; but, it works.
· Plug trolling tip: All of the common plugs – Reef Runner, Thunderstick, Rapala, Power Diver, and Long A – will catch fish, however, the farther way from the boat the better. It is not uncommon to have leads up to 400 feet. Walleye fishing on Lake Erie doesn't have to be a mystery. The science of fishing can be greatly simplified by understanding that catching a fish is achieved by fishing. On your visit to the big water, remember target big "eyes" with the proper depth control and the right lures. Most important, anglers will find that trolling is easy, effective, and above all - fun.
Dave Adams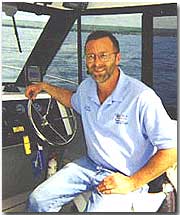 Dave Adams is a member of the Pennsylvania Outdoor Writers Association. He is a Licensed U.S.C.G. Master and has over 20 Years experience fishing on Lake Erie and Lake Ontario. One of the best things Dave says about fishing is "I enjoy fishing for the great experience of good company and memories that last a lifetime".

Writing credits:Pennsylvania Angler and Boater, Pennsylvania Game & Fish, Ohio Game & Fish, Great Lakes Angler, Fishing Facts, Ohio Valley Outdoors, PA Hunting & Fishing News, Outdoor Times, Lake Erie Walleye, Ohio Fishing & Hunting News, Valley News Dispatch, Outdoor Times, Outdoor Territory, and Outdoor Journal

---------------------------------------------
Brought to you by Land Big Fish
Web: http://www.landbigfish.com
Email:

[email protected]