Blade Baits

By
Steve VonBrandt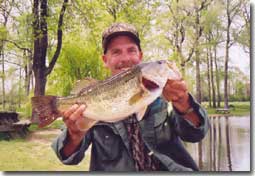 Most bass fisherman, because of their use of jigs and worms, have forgotten some of the most important baits that can under the right circumstances catch numbers of hard to catch bass, and many times mean the difference in winning a tournament. These baits don't have the appeal, or tournament winning reputation of such baits as topwaters, soft plastics, and spinnerbaits. Anglers that are just starting out in bass fishing are many times unaware of how and when to use these lures. Even some really good bass fisherman don't understand the role of these hard metal baits. Some of the better baits we use for these techniques are the jigging spoon called a Silver Buddy, and the Strike King thruster tail spinner. These baits can really help you out at times. We never actually won a tournament just using these baits only, but they can really add some decent bass to the bag when other baits fail.
Most anglers use these baits in deep water with a vertical presentation, but we use them in some other ways that really work well in the Northeast. When we fish some of the deeper waters of New York, and some in the Midwest, we use them in deep water situations such as in Table Rock Lake in Missouri, These work well there especially in the late fall and early winter, but in some of the clearer waters in the Northern Lakes we use them by casting them, since the water isn't really that deep, and we can't get on top of them.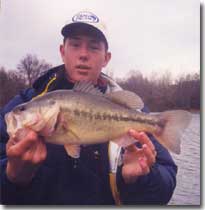 During real cold periods we position the boat on a drop-off or on a deep edge of a flat. Then we cast the spoon towards the edges of the weed growth with thin vegetation. We usually fish them in about 6 feet of water to as deep as 20 feet, and then we work the spoon back to the boat in a yo-yo type motion. We just let the lure fall to the bottom, jerk it up when it hits, and then work it back to the boat the same way. We found a lure called the Crippled Herring works well this way. If we want the lure to fall slower, we just use a heavier line. This technique works real well for us here in the Northeast just before the ice starts to form. You can cover a lot more water with this lure, rather than the jig or grub, which would take all day to search fro the fish. The bass's strike zone is very small in the colder water.
EARLY SPRING TACTICS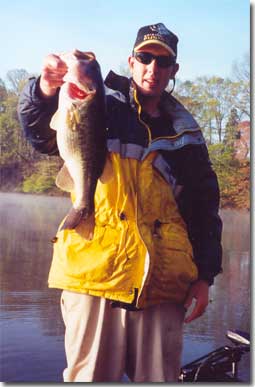 In the spring we like to use a bait called a Silver Buddy. We use mostly the 1/2 ounce size. This bait produce much better in the early spring. We have had a lot of luck with this bait soon after the ice has gone out. We fish this bait in short hops in the same locations as in the fall. This bait makes a better vibration and I think that is why we do well in the early spring when the water is cold. We have caught as many as 20 bass from a small area on this bait in table Rock Lake, and other Northern reservoirs. We generally have our best luck with this bait when we fish it in areas that have a chunk rock bank, The best areas is where the creek channel is, and when it sort of swings away from the bluffs, like on the Sassafras, onto sand and gravel flats. This lure also works great fro smallmouth in some of the Pennsylvania Reservoirs, and in the Midwest. I usually cruise back and forth in creek arms until I find the baitfish. You must really learn how to use your electronics properly to accomplish this. When I see a lot of baitfish holding on a deep change, sometimes they will be bass also, so I follow them until I find some structure. Sometimes in the deeper lakes it is 30 feet or more. When you are fishing for deeper bass like this you have to pay attention to your line, then I snap the lure up, and then follow it back down on a semi-tight line. I learned to do this at Table Rock and Bull Shoals in missouri after many frustrating trips. The spoon should flutter down, and watch the line, it is a real subtle bite. Set the hook when the line does anything unusual.
TAIL SPINNERS
These best are great because they cast so far. Whenever we see schooling fish pretty far away we can reach them with these baits before the action slows down.
You have to be careful with a lot of tailspinner baits as they cause a lot of line twist. The Strike King Thruster tail doesn't do this nearly as much, and we started using it this year. The ball bearing swivel on this bait eliminates a lot of line twist. Because of the design of this bait, the bass have more trouble throwing the lure, and result in more landed bass. Sometimes when we are using a crankbait, and the fish seem to turn off to this bait, we bring out the tail spinner. You can fish it all through the water column, and a lot of times catch more bass in the same area. It imitates a dying shad real well. Sometimes we even through this bait on a flat where other anglers might be tempted to throw a spinnerbait or a Rat-L-Trap.Sometimes we throw a Thruster tail and work it over scattered grass or a weedbed that is several feet below the surface. We had luck with this technique in New jersey and in the Midwest and Florida. The vibration and flash sometimes draws some huge strikes. I just use 20-25 pound test to control the depth over the weds or flats, and use 10 pound test if I want it to go deeper.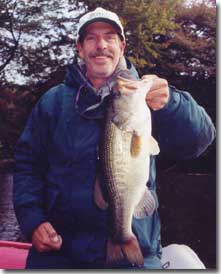 We have also used this bait successfully over and around standing timber in some midwest reservoirs also. The design of the lure helps kick it away from some of the standing timber, tree trunks, and even limbs. You can even use it effectively by swimming the bait by the bridge pilings in the Potomac and the Sassafras rivers.
LINE, REEL, AND ROD COMBO'S
I use a 6 1/2 to 7 foot, Medium action Casting rod with a high speed retrieve, such as a G.Loomis, and a Shimano. It is just the right combination for these baits and retrieves like to use "Spiderline Monofilament for this, depending on the particular technique, it will be 12-25 pound test. Don't ever get caught without some of these blade baits in your boat, it can save the day or win a tournament.
---------------------------------------------
Brought to you by Land Big Fish
Web: http://www.landbigfish.com
Email:

[email protected]