Discussion Starter
•
#1
•
Took the yak out to the GMR this morning. Got on the water around 9:00 with visions of lotsa' big smallies dancing in my head. There were a few riffles I wanted to hit along the way to my main target area.
Long story short four hours later I hadn't even got a nibble. I threw buzzbaits, minnow cranks, flukes, spinnerbaits and grubs, nothing, nada, zip. These were some pretty fishy looking spots too.
When I finally got to my target riffle I decided to tie on a tube. Within a few casts I got this long skinny smallie that looked pretty beat up. It had a fresh sore by its mouth and a deep scar on his side. I laid it on the board and it just reached the 16 inch mark.
I kept throwing the tube in the upper section of this riffle and caught a couple more in the 10-12 inch range. I moved to the lower section of the riffle and got another dink. I lost my tube and tied on a white marabou jig.
I got underway again and moved downriver to the mouth of a creek and started throwing the jig. Almost immediately I had a fish on, it revealed itself to be a football shaped smallie in the 14 inch range on a leap that also set it free.
Over the next 30-40 minutes this spot produced two 19" catfish a 22.5" catfish a few more small smallmouth and several fish that got off.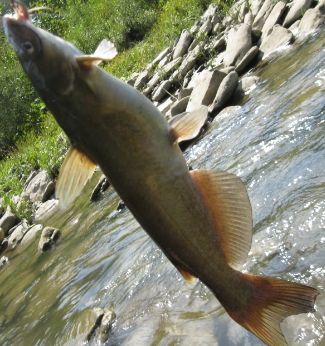 From looking at these catfish they certainly seem to be putting on the feedbag.
I turned the yak up river and started the long paddle/wade back to the take out. I stopped at a usually reliable hole near the take out, but had no takers, but to be fair I was tired and didn't give it much of a chance.
The water temp was 69/70 degrees and visibility was about a foot.
I'm not sure what this was, but after I paddled through it my kayak became invisible and I'm pretty sure I am now living forty seconds in the future.